Why the Jimmy Garoppolo Deal is Actually the NFL's Biggest Bargain Contract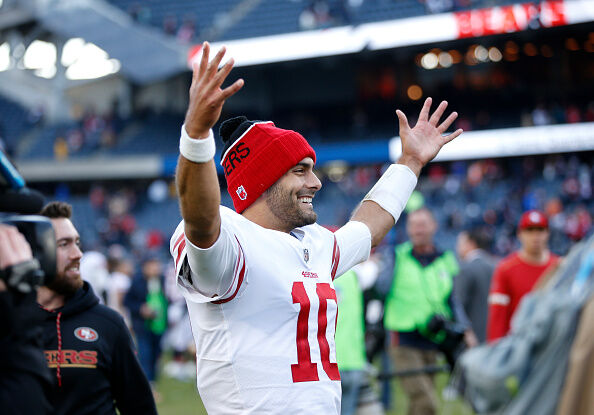 Colin Cowherd:

"San Francisco is a great example of spotting a quarterback you like and paying him early. Even if Jimmy Garoppolo got hurt again, they can get rid of him and they'll only have a $4 million dead money cap hit next year. There is this feeling that 'OMG, San Francisco is in crisis!'… They're only paying him $27.5 million. If he goes 9-7 or 10-6 you feel like you're getting a bargain. If he does get hurt you just move off him; it's only one more year of dead cap money and it's not a huge hit. The 49ers are not in a precarious spot. When Dak Prescott gets $34 million and Carson Wentz is still getting $32 million, that 32 is going to feel like a bargain."

(FULL AUDIO AT BOTTOM OF PAGE)
Listen to Colin Cowherd explain why he believes San Francisco 49ers quarterback Jimmy Garoppolo might have one of the league's biggest bargain contracts, despite the former Tom Brady backup signing one of the most derided deals in NFL history during the 2018 offseason.
Garoppolo made waves when he signed a five-year, $137.5 million contract, despite Jimmy G having only started seven NFL games up to that point. The $27.5 million per season was the highest annual average in league history at the time.
Despite Garoppolo tearing his ACL in Week 3 the following season, Colin still believes the 49ers made an excellent maneuver by tabbing Garoppolo their franchise quarterback EARLY, as Garoppolo's $27.5 million was quickly dwarfed by six other quarterbacks whose contracts were re-negotiated after February, 2018.
Check out the audio below as Colin explains why the Garoppolo deal was designed to age kindly, as the 49ers can move off Garoppolo after this season if they want and only have to suffer a puny cap hit, yet if he flourishes this season, his contract would be miniscule compared to the NFL's top signal callers.

The Herd with Colin Cowherd
Want to know more about The Herd with Colin Cowherd? Get their official bio, social pages & articles on FOX Sports Radio!
Read more