Ezekiel Elliott Needs to Grow Up After Taking Offense to 'Zeke Who?' Joke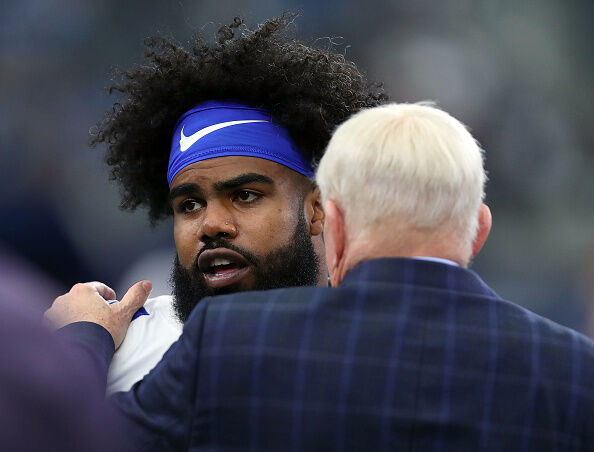 Doug Gottlieb:

"It turns out that 'tough guy' Ezekiel Elliott is nothing more than 'sensitive guy' Ezekiel Elliott. This 'Zeke Who?' joke by Jerry Jones was clever, funny, and it was set-up by a reporter. It didn't mean anything until we hear from Zeke's agent that he didn't think it was funny and neither did Zeke. Jerry Jones said two weeks ago, 'You don't need the league's leading rusher to win the Super Bowl'… THAT'S the kind of thing that should be deemed offensive, not the joking, laughing, and celebrating Tony Pollard 's big game against the twos, threes, and fours of the LA Rams. Whether it's insecurity or his millennial-ness, you're way too sensitive. Not only should a star football player not be so sensitive, but it's a sport where you're supposed to be the toughest of guys. The people who we think to be the 'toughest' guys are often times the guys that are 'softest' in life."

(FULL AUDIO AT BOTTOM OF PAGE)
Listen to Doug Gottlieb blast Dallas Cowboys star running back Ezekiel Elliott after the two-time All-Pro running back denounced Cowboys owner Jerry Jones' postgame 'Zeke Who?' joke when alluding to a successful preseason game from backup rookie running back Tony Pollard.
Local reporters asked Jones about Zeke's status after Pollard's 5-carry, 42-yard performance against the Rams on Saturday, that included a 14-yard touchdown against the reigning NFC Champions. Jones responded with a tongue-in-cheek, 'Zeke Who??'
When Zeke's camp heard about the comments from Jones, Elliott's agent released a statement saying "I didn't think it was funny and neither did Zeke… We actually thought it was disrespectful."
Check out the audio below as Gottlieb says Zeke needs to grow up and stop being so sensitive to an obviously sarcastic comment from a wordsmith like Jerry Jones who is no stranger to colorful humor in his press conferences.