Are You Kidding Podcast Talks To Poppy, Cancer Survivor And Sock Designer
Brothers Sebastian and Brandon Martinez are like many other 11- and 13-year-old kids: they like dogs, basketball, listening to music, and eating pizza. But unlike most kids, Sebastian, at age 5, decided to start his own company designing and selling boutique socks called Are You Kidding Socks. Now he's the CEO of the company, which not only sells socks for profit, but also has a nonprofit arm called Are You Kidding Cares that gives away free socks to raise money for charities like Stand Up To Cancer and JDRF, and even handed out over 2,000 pairs of socks to displaced victims of Hurricane Irma. Now they have the Are You Kidding podcast, where they've interviewed radio legends Enrique Santos and Elvis Duran. On this episode they sit down with Poppy, a thirteen-year-old girl designed a special sock for Stand Up To Cancer while she herself was battling cancer.
First, the boys decide to interview each other, so they can fill us in on their story a little bit. They talk about how they both love Dwayne Wade, french fries, and how silly it is that their dad got ID'd at a bar. "Like come on. He has white hair. That's obvious that he's over 21," Brandon says. But before they get into that, Sebastian wants to know why Brandon decided to join the company. "When we started, it was just you and our mom...you went...to sell our socks for the first time, you were pretty shy, because you were around five at the time," Brandon remembers. "Dad...was like, 'Hey, bring Brandon over, because he's less shy, he's older, he knows how to talk to people.' So I came along, and I sold some socks on the spot. That's how I became the director of sales." 
They like doing their podcast, because they want to inspire more kids to be entrepreneurs as well. "They're kids, and they have a business plan, so they can take that...and have a job in the future, and already have it planned," Sebastian says. But it's about more than making money, Brandon says: "You get to give back. You could give back to the community, help people, make smiles. People that are sad, you could bring them up, enlighten them."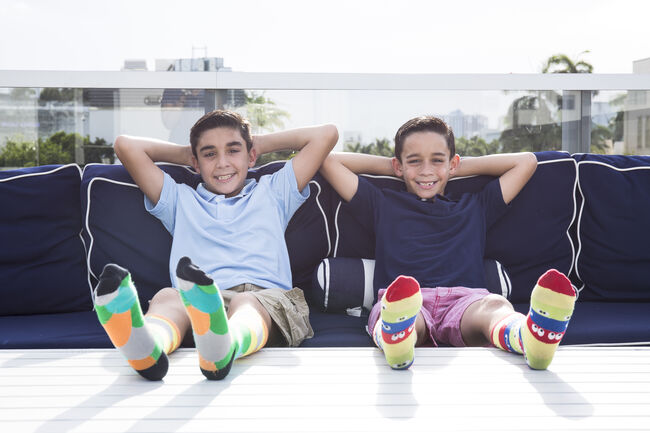 That's why they started their charity arm, and one of the people helping them uplift others is Poppy, a cancer survivor who designed a special pair of socks for Stand Up To Cancer. Her design was inspired by the ocean, she tells us. "I love the ocean. It's one of my favorite places. The ocean really helped me through being sick." But even though her two-year journey battling cancer was rough, "I wouldn't actually change it for anything. I met a lot of amazing people. I went to a lot of amazing places. I wouldn't change that for anything, even not getting cancer." 
Find out more about Poppy, why her favorite superhero is "Thor," and who does more chores, Brandon or Sebastian (though you should probably take Mom's word on this one), on this episode of Are You Kidding. 
If you want to be sure you're listening to the podcasts everyone else is checking out, iHeartRadio has you covered. Every Monday, iHeartRadio releases a chart showing the most popular podcasts of the week. Stay up to date on what's trending by checking out the chart here. There's even a chart just for radio podcasts here, featuring all your favorite iHeartRadio personalities like Bobby Bones, Elvis Duran, Steve Harvey and dozens of others.