Murder Manual: The Book Behind The Bullets On True Crime Podcast Hit Man
In the wee hours of the morning on March 3, 1993, a man entered Millie Horn's house, went into her son Trevor's room, and shot his overnight nurse, Janice Saunders, through the eye, before smothering the three-year-old boy in his crib. Millie herself was shot as she came down the stairs to check on her son. Then, the man vanished. From the beginning, the remaining Horn family members pointed their fingers at Millie's ex-husband and father of her three children, Lawrence T. Horn, but at the time of the murders, he was three thousand miles away. Could it have been murder for hire? In the new true crime podcast Hit Man, journalist Jasmyn Morris takes us through the story of these murders, and the controversial books that laid the groundwork for the perfect crime.  
In Colorado in 1970, two Vietnam veterans named Peter Lund and Robert K. Brown founded Paladin Press, putting out titles like Be Your Own Undertaker: How to Dispose of a Dead Body and Sneak it Through: Smuggling Made Easier. "When they started, it was long before the internet," Jasmyn reminds us. "Lund was a first amendment fundamentalist, and he wanted to set this information free." Another questionable book they published was called Hit Man: A Technical Manual for Independent Contractors. It had step-by-step instructions on how to kill someone and get away with it: "Where to find employment, how much to charge, and what you can and cannot do with the money you earn...Beyond all his logistical secrets...He walks you, as if you're his apprentice, through the mental preparation it takes for a person to commit murder, like how to handle the emotions he says you won't feel after your first job." 
Though some people felt they shouldn't be providing this kind of instruction to the general public, the publishers disagreed: When interviewed after the Oklahoma City bombing that killed 168 people was tied to a book from Paladin, Peter said, "I feel no responsibility. I have no ethical responsibility for the misuse of information." But eventually, Paladin Press would be told that it could be held legally liable for acts perpetrated by readers of their materials, even though they would argue that the First Amendment protected this kind of speech. "This conversation is so relevant right now," Jasmyn says. "Every few days it seems there's another mass shooting tied to some kind of radicalized viral online hate. So we have to ask, can horrendous ideas cause horrendous acts of violence, and are the platforms that perpetuate those ideas responsible?"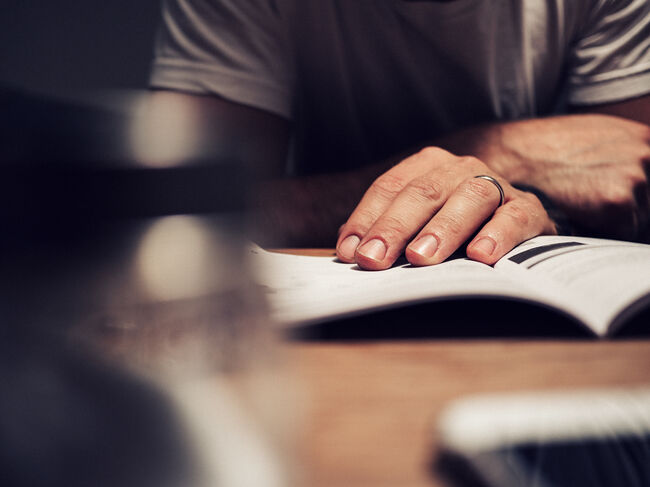 In this case, at least, it turns out the books Paladin published certainly helped "aid and abet" the murders of the Horns and Janice. After the murders were discovered, the police had little to go on; the murderer had left no trace of himself at the scene of the crime, so the police canvassed the area looking for leads. They discovered that a man from Detroit "had checked into a nearby Days Inn around midnight, and had checked out by 6:00 AM, the morning of the murders," Jasmyn tells us. "There could have been plenty of innocent explanations, but it still seemed weird" to stay at a hotel for only six hours. They got the FBI involved to check out the Detroit man, whose name was James Edward Perry. He was an ex-convict who had served out his sentence and now worked for himself as a radio minister. The police searched his house and found a catalog for Paladin Press. "Sure enough, we learned that James Perry had in fact ordered these two books...Hit Man...and this book on how to make disposable silencers," Robert Dean, the lead prosecutor on the case, remembers. Did Lawrence Horn put a hit out on his own family? Listen to the episode to find out more about the murders, the method, and the books behind the bullets, on the new podcast Hit Man. 
If you want to be sure you're listening to the podcasts everyone else is checking out, iHeartRadio has you covered. Every Monday, iHeartRadio releases a chart showing the most popular podcasts of the week. Stay up to date on what's trending by checking out the chart here. There's even a chart just for radio podcasts here, featuring all your favorite iHeartRadio personalities like Bobby Bones, Elvis Duran, Steve Harvey and dozens of others.
Photos: Getty Images